(If you want to check out that stuff and even more cute ish I've curated keep scrolling)
Guess who's back?
If you didn't say "you, of course, Mia", then I really don't know what you're doing here. I mean, honestly, how are you even on the internet? How did you get here? How do you even function on a daily basis – are you okay? Like, are you honestly alright?
I'm very sorry for basically evaporating this past month, but the other half of my soul – AKA my laptop – has been broken and I have been a hollow shell of myself. And obviously unable to post. I have missed you all and I'm looking forward to catching up with everyone's posts – but first, to write my own.
So, to get you guys all caught up, at the moment I'm currently about to start my Apprenticeship! As you may remember from this post here on How To Make Life Goals and Plans, I was kind of at a place where I decided to start to seriously think about my future a little more and I decided that another year of bunking off half of college probably wasn't the best way forwards. Which meant that I went and found myself an apprenticeship in Digital Marketing that I'll be starting next week.
It's almost like I'm growing up.
Now, let me shatter that illusion with some cute kawaii stationery.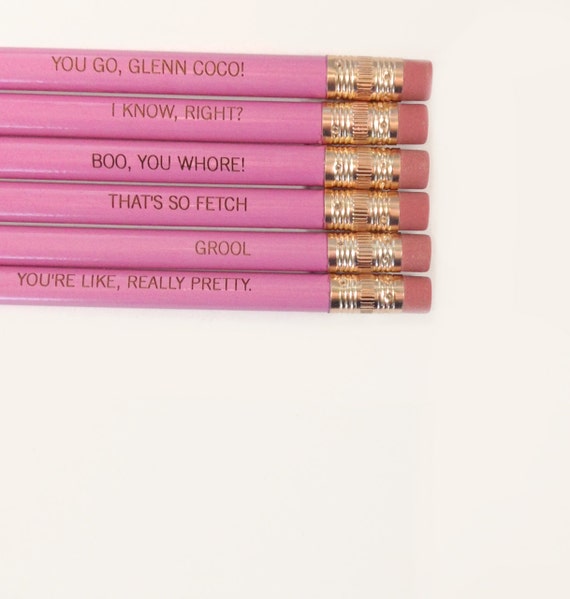 Mean Girls Pencils – £6
(Yes, I know Mean Girls pencils aren't kawaii, but if I'm doing a post about stationery I couldn't just leave them out, could I?)
#1 Food Erasers – £1.09 // #2 6-Pack Kawaii Pens – £2.99 // #3 6-Pack Vitamin Pill Pens – £0.96 // #4 Panda Pencil Case – £1.28 // #5 Black Cat Pen – £1.73 // #6 Duck Pen – £1.96 // #7 Panda Stapler – £1.46 // #8 Ninja Highlighter Set – £2.65 // #9 Cute Animated Character Sticker Set – £2.99 // #10 Washi Tape Set of 5 – £1 // #11 Panda Eraser Set – £4.95 // #12 Cute House Pens – £1 //#13 Cute Index Stickers – £0.71 // #14 Ice Cream Notebook – £4.99 // #15 Doll Washi Tape – £1.95 // #16 Cloudy Notebook – £4.99 // #17 Dessert Erasers – £8.49 // #19 Kawaii Pen Set – £5.15
Anyways, impossibly cute but maybe a touch unprofessional stationery aside, this post is one about one of those unavoidable things we all experience together – back to school shopping. If you're anything like me, your heart (or the empty, abyss-like cavity in your chest, whichever) is pulled in different directions with this sentence – because "shopping" always sounds great and "back to school" always sounds like its just an alternate spelling of "swimming in the fiery pits of Hell".
Well, I'm not here to lie to you and tell you that forcing yourself to endure six hours of meaningless pain is gonna be great. I'm not going to lecture you on how important education is (it is) and how lucky we are (we are) but what I am going to do is help soothe the pain with retail therapy.
So the first thing you need on your back to school shopping list is a schoolbag.

Hype Backpack – £24 
I'm personally loving Hype backpacks because . . . well, just look at how gorgeous that print is and tell me you don't see where I'm coming from. They have a crazy amount of prints and colours going on, but I just picked my favourite – so check them out.

Miniature Velvet Backpack – £5
I actually have one of these and I love it. It's a little small if you have to take textbooks and all that heavy stuff to school, but if you leave things in your locker this little beauty is only £5 and has free shipping, so how can you go wrong?
#1 Hype Backpack – £24 // #2 Daisy Print Backpack – £8 // #3 Bird Print Backpack – £25 // #4 Geometric Grid Monochrome Backpack – £21 // #5 Comic Style Dessert Print Bag – £8.55 // #6 Cream Backpack – £14.67 // #7  Gold Cat Ear Backpack – £20 // #8 Holographic Backpack – £11
Okay, so once you have your bag you then need to buy . . . well, an even smaller bag. Next up are our pencil cases!
#1 Sushi Pencil Case – £17 // #2 Pen Orgy Pencil Case – £7.95 // #3 Holographic Pencil Case – £3.99 // #4 Cute But Psycho But Cute Pencil Case – £3.99
And in this pencil case you can stuff all the aforementioned Kawaii Stationery as well as . . .

The bane of literally all everyone's existence. The maths' set that you never actually use, but will always get punished for not having. You can pick this up for a steal at only £2 (free shipping) from Amazon here, where they have a pretty handy 4 for the price of 3 on back to school essentials at the moment.
Now, the next thing is probably only one for the organised school student. AKA – not me. I was that person that had to send myself subject-less emails from one my hotmail to my gmail account just to transfer files. Obviously, this was not smart. (Especially with schools' shitty email server bans – what sort of animals ban access to hotmail?) Moral of the story is: don't be me. Get a USB.

Lilo and Stitch 16GB USB – £3.49
You may be wondering why a Lilo and Stitch USB, but what you should really be wondering is why not.
And now – to the parts I'm really excited about. Notebooks and planners!
I'm so excited. I'm so excited that I'm going to make a separate post dedicated to how much I love notebooks and planners and nobody is going to judge me for it, because it's completely normal to love paper more than yourself.

#1 Crap I Gotta Get Done Notebook – £7.06 // #2 Stars and Moon Print Notebook – £4.99 // #3 Things I Would Otherwise Forget Notebook – £4.99 // #4 A Little Book For Big Ideas Notebook – £1.88 // #5 Stuff My Brain Wont Let Me Remember Notebook – £4.60 // #6 Great Ideas (Cunning Plans) Notebook – £5.42 // #7 Evil Plans and Stuff Notebook – £6.38 // #8 3 Set of Happy Notebooks – £4.99
So, I got the cute ones out of the way for all so that all of you practical people who use notebooks for function rather than aesthetic value (does it make you sleep better at night knowing that you're a higher functioning human being, does it? What do you mean yes? Well, then, I just don't know what to say. Good for you.) can have your turn.
#1 Brown Multi-Tab Notebook – £10 // #2 10 Subject Notebook – £6 // #3 Black 3 Piece Set Multi-Sizes Multi Tab Notebooks – £15 // #4 Palgrave Study Skills Student Planner – £8.99 // #5 Monochrome Study Planner – £6 // #6 Post It Notes – £4.81 // #7 Multi-List Notepad –  £6.45 // #8 Highlighter Set – £4.74 // #9 Wall Study Planner – £6.95
And that's about it! All the things you need to kick off another dragged out, unexciting and pressure filled school year. Remember, kids: despite what they tell you, it's not that deep. Try not to kill yourself.
Feel free to follow me on social media (and if you like this post – share it!):
Insta// Twitter // Pinterest // Facebook // Bloglovin'